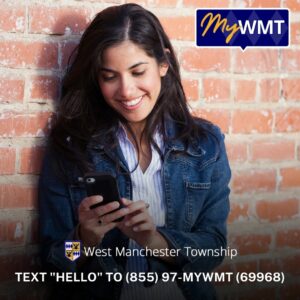 It's Here!! March 1st marks the launch of My WMT! West Manchester Township has teamed up with Citibot, to bring you a faster, easier way to send and receive communications! By simply texting "Hello" to 855-97-69968, you will receive a message asking how our service can help you.
You have the option to:
-Ask a Question
-Report an Issue
-Receive text alerts to areas that are important to you (you can opt out of these at any time)
Please sign up today, or feel free to ask a question. If you are having difficulty with signing up, please do not hesitate to reach out to the Township Monday through Friday, 8 a.m. to 4:30 p.m. at 717-792-3505.